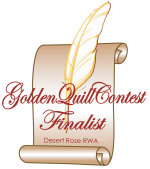 Hey, all. I've been traveling a lot recently, enjoying a real spring and beautiful storms in the cooler parts of the country, and I am now melting into Florida's steamy summer. Whew! Fortunately, there are beach reads readily available if you need novels to go along with your summer vacation – the Bohemia Beach series, of course. The first book in the series, Bohemia Beach, has just been named a Golden Quill finalist. (Each novel can be read as a standalone, so start anywhere! Read all about them.)
If you prefer mystery with your romance, don't miss Desire on Deadline. I was invited to write this novel for the launch of Roxanne St. Claire's Kindle World, and I had a blast creating this story about rival reporters. Readers are calling it "an amazing book filled with romance and suspense," a "sizzling, fast-paced, action-packed story," "an edge of your seat thriller that is as hot as it is adventurous" with characters that have "great chemistry together, along with a touch of humor." (Keep those reviews coming, y'all!)
I just gave away another Mystery Box to one of my newsletter subscribers. The next one will include a Kindle Fire. Join the party and sign up.
Time to put on my sunglasses and get back to the keyboard as I write the next Bohemia Beach novel, about costumer designer Penelope and a handsome actor with secrets … Bohemia Heat. Seems apt as I fan myself and long for a swimming pool.
Have a great summer!