BOHEMIA BEACH | BOHEMIA LIGHT | BOHEMIA BLUES | BOHEMIA HEAT | BOHEMIA NIGHTS | BOHEMIA BELLS | DESIRE ON DEADLINE
Bohemia Beach
Bohemia Beach Series, Book 1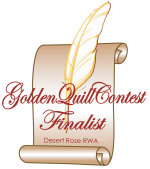 BOHEMIA BEACH was a 2016 Golden Quill finalist for best hot romance!
An irresistible obsession…
Leaving her cold upbringing behind, Sloane Abbey risks everything to create a career as an artist on the beautiful Florida coast. Her introduction to the art crowd is a swanky party in Bohemia Beach, where an encounter with her seductive host proves so unnerving, she flees into the night. But mysterious and wealthy writer Alex Alwend has only just begun his pursuit.
When Sloane gives in to impulse and the passion he offers, she puts her heart — and her dreams of success — at stake. The famous art school offers a chance to make friends — and an unexpected enemy. As she struggles to create a sculpture worthy of the prestigious museum exhibition, and her hopes for a relationship with Alex grow, she's shaken by her lover's secret. Can their fiery obsession transcend his past and lead her to the life and the love she desires?
This is the first novel in the Bohemia Beach Series, each a steamy standalone romance set among a circle of artists in the enchanting Florida city they call home.
FREE IN KINDLE UNLIMITED!
Bohemia Beach
A Steamy Contemporary Romance novel by Lucy Lakestone (Bohemia Beach Series, Book 1)
Publisher: Velvet Petal Press
List price: $3.99 99¢ ebook; $14.95 trade paperback
ISBN 10: 0990783634
ISBN 13: 978-0990783633
Kindle ISBN: 978-0-9907836-4-0 / ASIN: B00WF9FZOU
ePub ISBN: 978-0-9907836-5-7