BAFFLED BY BITTERS (Bohemia Bartenders Mysteries)
Pepper Revelle's trip to New Orleans inspires her to add a French Quarter-style courtyard to Nola, her bar in Bohemia. But the dig in the backyard reveals what might be a tiny historic treasure with a cocktail connection. With the help of Astra the dog, Pepper and her Bohemia Bartenders colleague Neil set out to learn the secret behind the discovery and realize it offers a surprising connection between the two mixologists.
"Baffled by Bitters" is a fun, 5,300-word short story set in the world of the Bohemia Bartenders Mysteries. (Timewise, it's set after Risky Whiskey and before Wrecked by Rum, but there are no spoilers!)  Get "Baffled by Bitters" for FREE when you sign up for Lucy's newsletter.
BACK TO BOHEMIA (Bohemia Beach Series/hot romance)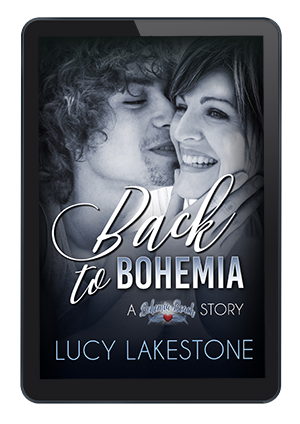 Spence Rowan knows only a couple of things for sure: He loves carving tikis, and he never got over Rienna Rawlings. She broke his heart in high school and then crushed it when she disappeared with the class bully. After five years, the last thing he expects to see is her shining face on Bohemia Beach, but she has a story to tell, and he can't help but listen. Is there any way the love he thought he'd hidden away forever will have another chance in the sun?
Lucy Lakestone's BACK TO BOHEMIA is a fast, happy, hot read – a novelette (long short story) of about 8,400 words that takes place in the world of the Bohemia Beach Series. Each novel in the series is a steamy standalone romance set among a circle of artists in the enchanting Florida city they call home.
If you prefer not to sign up for the newsletter, this story is available for sale:
iBooks | Amazon | Kobo | Google Play