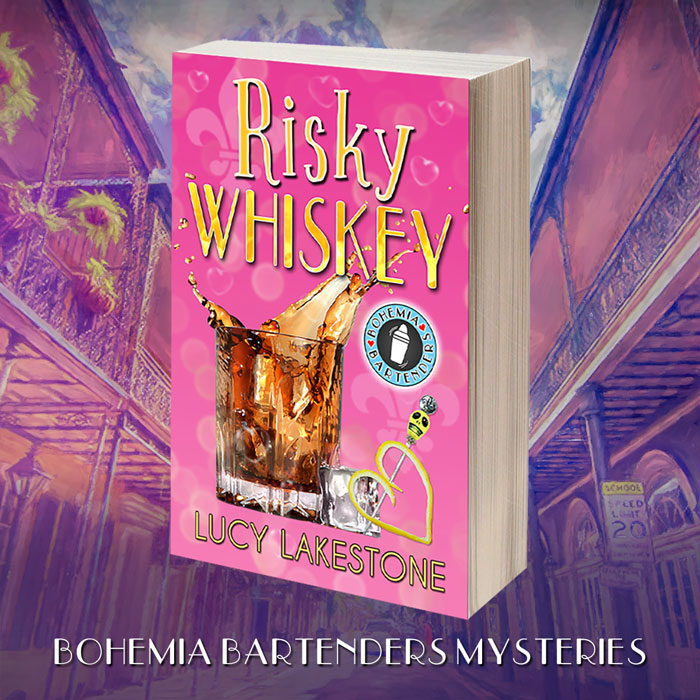 My lighthearted mystery Risky Whiskey is live today and wide at your favorite bookstores. It's been a long journey to get here, it seems … I've been talking about this book forever and never dreamed that a global crisis would make it seem more like fantasy than mystery. But I think we can all use an escape into a world where conventions and parties draw colorful characters who love a good craft cocktail.
This first book in the Bohemia Bartenders Mysteries is set in New Orleans. The second one, Wrecked by Rum, is set in Fort Lauderdale. Read more about the series concept in my recent post. Get the book summary and see the book trailer here.
In the meantime, I think it's time to have a Sazerac to celebrate. There's a recipe for this classic New Orleans cocktail in the back of the book, by the way.
The novel is available in ebook, paperback, hardback and (soon) audio. I'm narrating the book myself, and it's been quite the learning curve. Though I have some background in video production, audio has its own challenges … a couple of the biggest being time (editing takes forever) and noise (when your studio is in your house and you have dogs and a husband and neighbors who love mowing).
We're living in a dark time. I hope my book brings you a little light. Or at least encourages you to make a lovely, therapeutic cocktail. Cheers!
GET THE BOOK: