The first book in the Bohemia Bartenders Mysteries, Risky Whiskey, releases Tuesday. Wrecked by Rum follows Aug. 18. Here's an interview with author Lucy Lakestone about these fun whodunits with a dash of romance.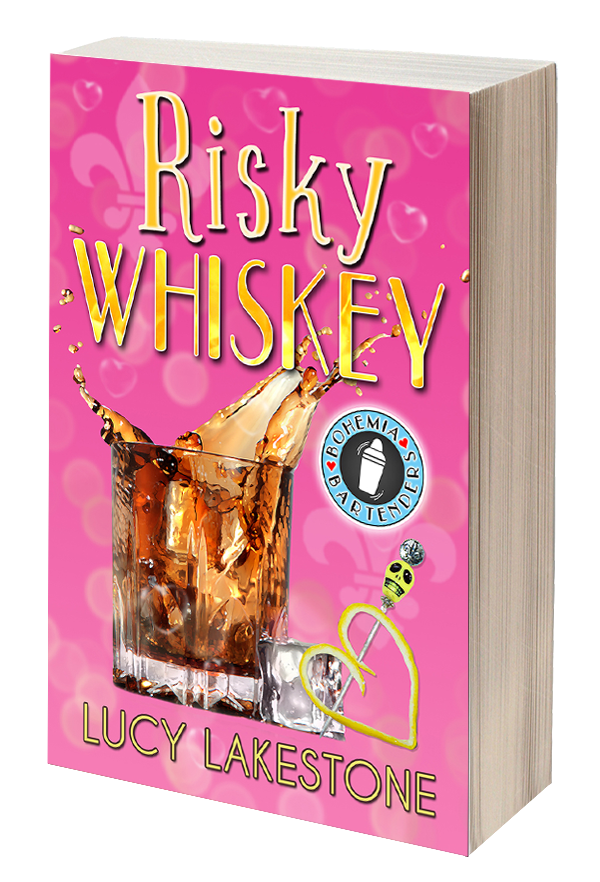 What are the Bohemia Bartenders Mysteries all about?
These are fun mysteries and a great escape, especially as they are set in the very recent past, when we all went to large conventions and parties without a second thought. You can call the books cozy culinary mysteries, given they center around the Bohemia Bartenders, a team of mixologists who travel to different events to make delicious craft cocktails. Along the way, as they interact with the colorful cocktail community, they run into trouble and solve mysteries.
Our heroine is Pepper Revelle. She's a talented mixologist who is outgoing and always willing to jump into the fray, even when disasters follow. Her interactions with men tend to follow the same path, and she finds she's interested in the lead bartender, Neil. He's more nerdy, a solid kind of guy, and their opposites-attract dynamic makes for good comedy.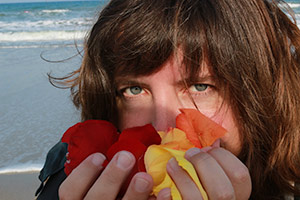 Do these books mix romance and mystery?
There's a little romance, yes, though the mystery drives the plot. There's also just a touch of heat and some cursing. I like to let readers know about these ingredients, since some cozy readers expect demure, G-rated stories. Not that these mysteries are terribly naughty! They are more at the level of Janet Evanovich's Stephanie Plum series or the Body Movers by Stephanie Bond.
It sounds like the series stretches the definition of "cozy mystery."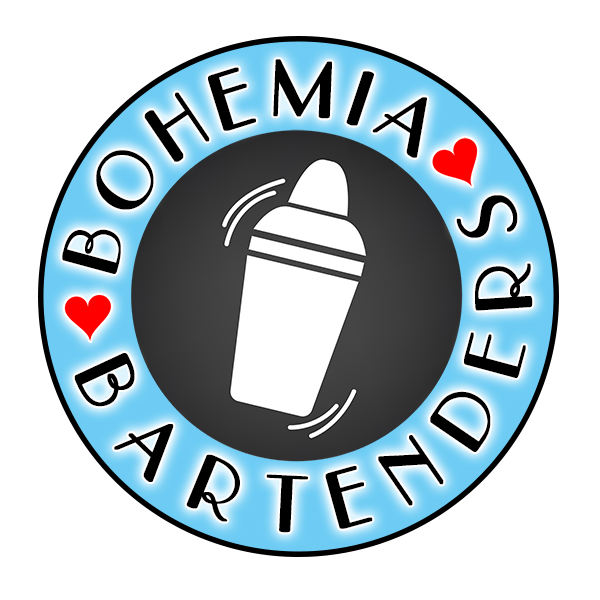 The books push the definition of cozies, in that the location changes in each novel. At the same time, the stories are set in a close-knit community of cocktail enthusiasts that almost resembles a traveling circus. Many of the same characters appear in book after book. In that respect, the series feels at home in the cozy format.
Changing locations presents a challenge and a reward for me as an author. I get a fresh canvas with each story and lots of opportunities to enrich each plot. And I foresee the characters returning to some of the same locations. The first book is set in New Orleans, which is where Pepper grew up. The second is set in Fort Lauderdale, Florida, and the third is set in my fictional Bohemia Beach and the mainland town of Bohemia, where Pepper co-owns a bar.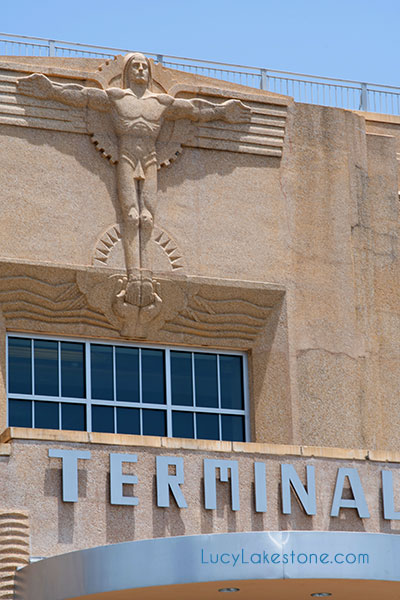 What's the connection to Bohemia Beach and your other series?
The Bohemia Bartenders Mysteries are a spinoff of the Bohemia Beach Series of steamy romances. However, the series are VERY different and stand completely alone. I love my Bohemia Beach setting, and Neil, a serious bartender, was a minor character in the romance series. I thought he'd be a great counterpart to the effervescent Pepper. Pepper appears briefly in that series, too, but she isn't named. (Her bar is!) If anyone happens to read both genres and series, they may see familiar characters appear in the mysteries.
What's the appeal of New Orleans as the setting for Risky Whiskey?
For one thing, I've attended a wonderful cocktail convention there several times, Tales of the Cocktail, which partially inspired my fictional Cocktailia in the first book. It's a raucous, fascinating event that attracts mixologists, bar owners, distributors, distillers, historians, authors — great fodder for my cast of characters.
New Orleans itself is beautiful, exciting, sometimes seedy and even creepy, depending on where and when you go. With its jazz, history, cemeteries and terrific bars, it seemed like a great location for Risky Whiskey.
While I've seen the joyful side of the city, I also saw it shortly after Hurricane Katrina, when I interviewed survivors for a newspaper article. I was so moved by their stories, I wanted to incorporate the storm into Pepper's backstory.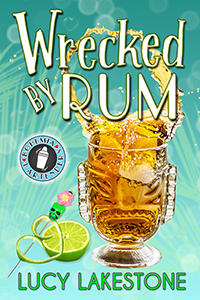 Why do the bartenders go to Fort Lauderdale in Wrecked by Rum?
There's a drink- and music-filled real-life tiki convention called The Hukilau that I've attended many times. It's a fantastic inspiration for my fictional convention in Wrecked by Rum, where the murder of a high-profile rum collector unravels lots of suspects and secrets.
I was also able to incorporate other locations I love in Fort Lauderdale, including a fictionalized version of the Mai-Kai, a Polynesian restaurant that's been around since the 1950s. It is much beloved in the tiki community.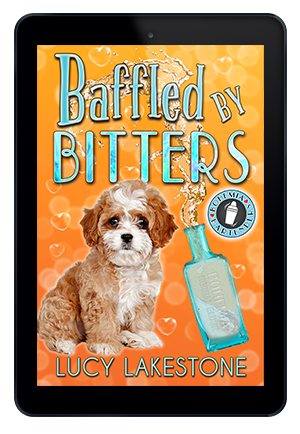 Is it true there's a dog in your books, too?
It is true, although Astra — whose name was partially inspired by Asta , the dog in The Thin Man movies — is more like a special guest star. She's not always on The Love Boat! Astra is a Cavapoo who belongs to Pepper and her Aunt Celestine, who each live in half of a duplex in Bohemia Beach … though they agree that Astra owns both of them.
Astra is offscreen in Risky Whiskey, but she is along for the ride in Wrecked by Rum and Vexed by Vodka. A funny "loaner dog" appears in Jiggered by Gin, when the bartenders are in London. And Astra will be back for the next book, Beguiled by Bourbon. She's also in a short story I'm giving away to subscribers, Baffled by Bitters, set between the first two books in the series, and I simply had to put her on the cover. The novels have cocktails on the cover, but who doesn't love an adorable pup like Astra?
What prompted you to write a mystery series?
I've always loved mysteries and adventure. In fact, I've written an adventure series under another name. I also love snarky humor and romance, so this series was a way to include all of these ingredients to mix up a fresh, fun cocktail in a voice that feels really natural to me. The stories are written in first person, from Pepper's point of view. It's a blast to live in her head … and drink her cocktails.
My husband and I have a rather elaborate home bar, so cocktails are a big part of our life, too. As my characters say, it's not about drinking; it's about drinking well.
Learn more about the Bohemia Bartenders Mysteries at https://www.lucylakestone.com/mystery/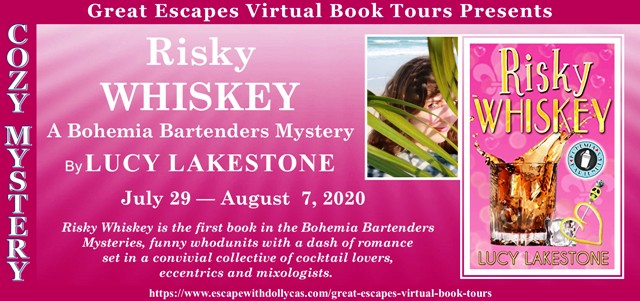 Want to learn more? Lucy Lakestone went on a blog tour in 2020. See all the details.
Here's the book trailer and a summary of Risky Whiskey:
Risky Whiskey
Bohemia Bartenders Mysteries, Book 1
The first novel in a funny new mystery series!
Stirring up trouble in New Orleans …
Eager to shake up her drinks and her life, mixologist Pepper Revelle jumps at an invitation to join the elite Bohemia Bartenders. Leader Neil thinks she'll be the perfect advance gal for his team at a colorful cocktail convention in her hometown of New Orleans, but the job turns out to be more bananas than a drunk monkey. Setting up the key tasting for their distiller client, she and Neil discover their whiskey has gone dangerously bad. But how? And was this shocking poisoning more than an accident?
As Pepper and Neil try to figure out what happened, keep the drinks flowing and help distiller Dash Reynolds survive the weekend, they find themselves the target of increasingly scary attacks. Maybe it's the danger, or maybe it's the drinks, but Pepper also can't help an inconvenient attraction to cocktail nerd Neil as they stir up trouble and try to figure out who's out to get them — before they're sliced and squeezed like a lemon twist in a Sazerac.
Risky Whiskey is the first book in the Bohemia Bartenders Mysteries, funny whodunits with a dash of romance set in a convivial collective of cocktail lovers, eccentrics and mixologists. These cozy culinary comedies contain a hint of heat, a splash of cursing and shots of laughter, served over hand-carved ice.
GET THE BOOK!
Available in ebook, paperback, hardback and audio