I love the Christmas novella phenomenon. It's huge in romance, where it seems every author has to write at least one. Well, now it's my turn, and Bohemia Bells is out today! It's a healthy 40,000-word hot holiday romantic comedy (a novella, or some might call it a short novel), and it's $2.99 in ebook or $9.95 in paperback.
It's also Christmasy as all get-out. It's funny and sometimes sweet, but it has its share of sexy moments. This is a story with steam – very much in character with the rest of the Bohemia Beach Series. It stars Millie, who has made brief appearances throughout the series starting with the second novel, Bohemia Light.
Here's the book trailer:

And here's a summary of Bohemia Bells: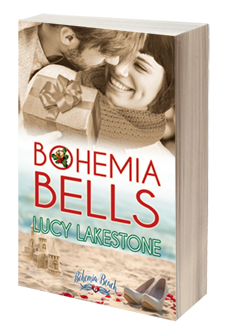 When hyper-organized Millie Romano is drafted to plan her friends' Christmas wedding in Bohemia Beach, she knows it needs a spectacular centerpiece. Why not hire a world-renowned sand sculptor? Soon she realizes that no matter how talented Bennett Westyn is, he's also a troublemaker, stirring up spats with the snooty caterer and driving Millie crazy. Worse, she can't resist him, even as his merrymaking steers her toward a wedding-day disaster. As her Christmas Eve deadline nears, there are two things she can't figure out: why her orderly life has become so muddled, and how she's lost her heart in the mayhem.
This is the sixth book in the Bohemia Beach series, each a steamy standalone romance set among a circle of young artists in the enchanting Florida city they call home.


Bohemia Bells wraps up the series, at least for now, with a ribbon and a bow. But romantic mysteries starring the Bohemia Bartenders are coming soon. Thanks for reading!