It's a happy book birthday for Bohemia Nights, which is available in your favorite online bookstores! The book trailer premiered today on USA Today's Happy Ever After blog. Check it out.
Meanwhile, Bohemia Beach is still free and spent three days this week in the Kindle Top 100 free chart – thanks so much for picking up your copy!
Newsletter subscribers will get a chance to win a beautiful popup book when they open their newsletter today – it's going out just after 2 p.m. ET, so sign up before then for your chance. There are also giveaways happening on my Facebook page.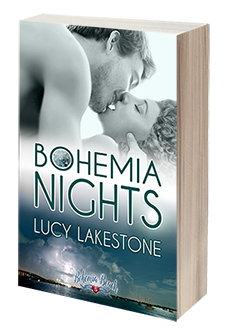 A deliciously indecent proposal …
Thea McKay likes her quiet, private life well enough. She creates pop-up paper art that no one ever sees, hangs out with her friends and admires men from afar. But then, at a play premiere, she meets gregarious video blogger Duncan Flyte. An incorrigible charmer with dubious motives, he's handsome, hilarious and overwhelming. When he says he won't stop showcasing her to his legions of fans unless she agrees to spend seven nights with him, her world turns upside-down. The offer is both outrageous and tempting. Those seven nights don't have to be passionate, but what if Thea wants them to be? Can she raise the stakes with this adorable Scottish import — especially when Duncan's cheerful campaign to woo her may be just one more spectacular lie that will break her heart?
This is the fifth novel in the Bohemia Beach series, each a steamy standalone romance set among a circle of young artists in the enchanting Florida city they call home.