For a limited time, ebook editions of Bohemia Beach are on sale for 99 cents. (Get the store links here.) In case you didn't know, the series consists of standalone novels, meaning each can be read on its own. There are no cliffhangers! However, if you decide to read them in order, you get a sense of continuity, as the next book begins in the same scene where the previous book ended.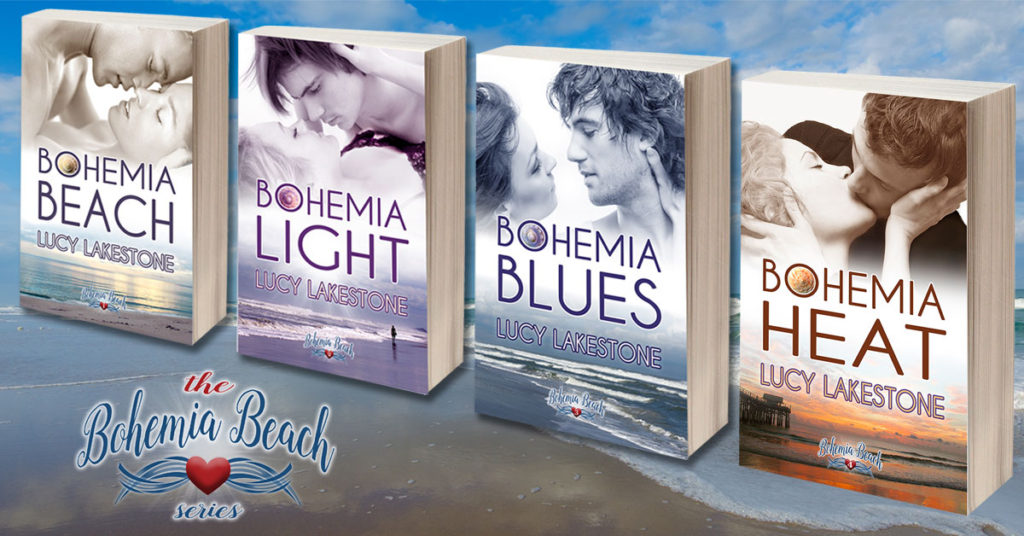 Each novel has a different narrator. Switching voices presents a fun and interesting challenge for me as a writer and, I hope, an intriguing experience for the reader, who gets to see inside of the head of each of the women who star in the books. Sloane is the potter who's swept away by writer Alex shortly after her arrival in Bohemia Beach, as she tests her freedom and tries to prove herself at the famous art school. She's a little more innocent than some of my other characters and undergoes a sensual awakening with Alex. He comes on strong, but he has a painful secret, and Sloane just may be the woman who can change his life. In book one, we meet photographer Cali, who stars in the second novel, Bohemia Light, as she's drawn to a sexy surfer. We learn more about rocker Ez, the star of book 3, Bohemia Blues; and we meet Penelope, the costume designer at the heart of the fourth book, which will release Nov. 17: Bohemia Heat.
Bohemia Heat is in final edits now, and my early readers say it's the best book of the series so far. It's up for a Goodreads giveaway right now (enter below). I hope you'll come along for the ride – because there is at least one more Bohemia book in the works, Thea's story, Bohemia Nights.
What genre are these steamy novels? Romance, of course. Specifically, they could be called New Adult or Erotic Romance, or even sexy contemporary romance, as most of the characters are in their early to mid-20s. They're smart and funny and passionate about their art and one another, and I've come to love them. See you at the beach!