If you got my newsletter, you know already that next month will see the release of a new Bohemia Beach novel, Bohemia Heat. I'm loving the crazy chemistry between costume designer Penelope and Jace, a hot actor with secrets. Here's a summary and the cover: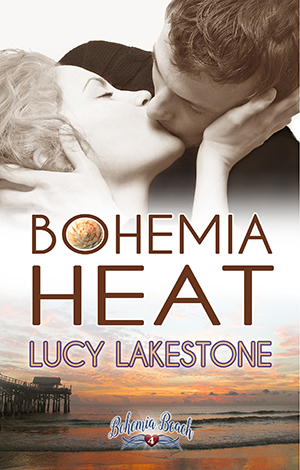 As summer sizzles in Bohemia Beach, Penelope Locke faces a different kind of heat. She's under pressure to create spectacular costumes for an update of Shakespeare penned by hot actor Jace Edison, who's come to town to oversee the production. He's a rising star on Broadway, TV and film with a reputation for ignoring women, and just being in the same room with him fries Penelope's wiring. Jace is a tangle of contradictions behind his handsome mask, and he threatens Penelope's carefully contained emotions by treating her alternately with disdain and passion. She can't help but be tempted by his volcanic attractions, but she's been burned before. Can they get close to each other without going up in flames? This is the fourth novel in the Bohemia Beach series, each a steamy standalone romance set among a circle of young artists in the enchanting Florida city they call home.
Check out the whole series here, with buy links to the major online booksellers, or find it on Amazon.
While I have your attention, Desire on Deadline is on sale for $1.99 for a limited time – that's half-price for this novel set in Roxanne St. Claire's Barefoot Bay Kindle World. Grab it while it's hot! Readers say it's "an amazing book filled with romance and suspense" …  a "sizzling, fast-paced, action-packed story" … and "an edge of your seat thriller that is as hot as it is adventurous." The protagonists are Roz and Alden, rival reporters pursuing a big story: "These two had such great chemistry together, along with a touch of humor." Read more about the book here.