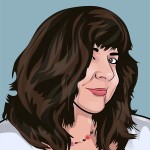 Lucy Lakestone lives on Florida's east central coast, among the towns that serve as an inspiration for the hot romances of her Bohemia Beach Series. The books in the series so far are Bohemia Beach, Bohemia Light, Bohemia Blues (winner of the Golden Quill) and Bohemia Heat. In addition to writing novels, she's been a journalist, photographer, editor and video producer. She loves lightning and can't resist a road trip. She is also a launch author for the Barefoot Bay Kindle World with a novel of romantic suspense, Desire on Deadline.
You may contact Lucy here.
Click for media resources/images.