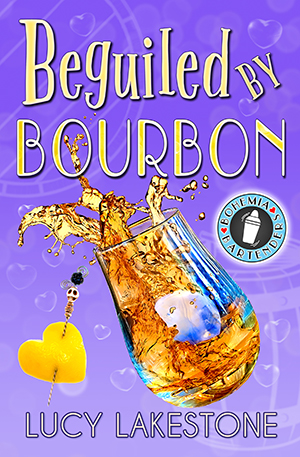 The start of this year was a blur as the fifth book in the Bohemia Bartenders Mysteries was published – BEGUILED BY BOURBON – and the new Bohemia Bartenders Cocktail Coloring Book came out, too. In case you missed it, let me catch you up.
BEGUILED BY BOURBON brings Pepper and her fellow mixologists to Kentucky, where they're tasked with helping distiller Royce Doucet launch his extraordinary new bourbon. But a murder and shocking news conspire to rock Pepper's world as she, Neil and the crew try to figure out what's going on. Expect the unexpected. And we finally learn a little more about Neil's past and why he's been so slow to act on his attraction to Pepper.
I'm grateful to everyone who's read and reviewed it. The Book Decoder says: "I loved the setting and the mystery. New characters and shocking new developments were the highlights of this installment. I loved it all!!! … BEGUILED BY BOURBON is a must-read cozy mystery. A new favorite in the series." Book blogger/Bookstagrammer Heather Clark of BookedWithHeather says: "This was such an excellent story of who dunnit. The perfect combination of laugh out loud moments and mystery." And Socrates' Book Reviews posted: "It's a captivating, gripping whodunit, but it's so much more. There's family drama, romance, betrayal and many hours of enjoyable reading. I've enjoyed every book in this series with the current one being my favorite. … delightful series."
Get all the BEGUILED BY BOURBON links here. And if you haven't started the series yet, Book 1, RISKY WHISKEY, is free right now!
Meanwhile, the Bohemia Bartenders Cocktail Coloring Book is live. Why a coloring book? I'd been playing with drawing cocktails from my photographs and realized the drawings might make cool coloring pages. I added complex mandalas drawn with Photoshop and more – along with quotes from the books. This title is available in print only, including at Amazon and Barnes & Noble. I'm so happy with the way it came out.
Meanwhile, I'm working on SHOCKED BY CHAMPAGNE, which will bring the Bohemia Bartenders back home to Bohemia Beach for the holidays. The start of my book-writing process is always slow. I do a lot of research and planning. But I hope to get the book out this summer.
Stay tuned! And if you love the Bohemia Bartenders, don't miss the merch in the shop. Cheers!