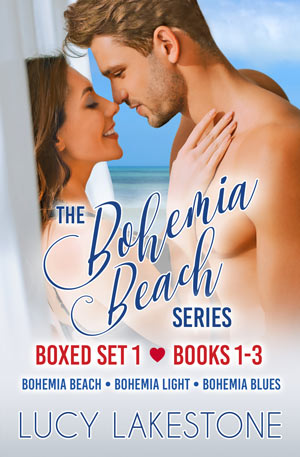 Guess what's here … new ebook boxed sets of the Bohemia Beach Series! Get all these steamy romances in two boxed sets (with dreamy couples on the new cover – oo la la!) for a snag-worthy price. Better yet, they're on all the stores.
The Bohemia Beach Series Boxed Set Books 1-3 is available now, and the second set, Books 4-7, releases Dec. 10.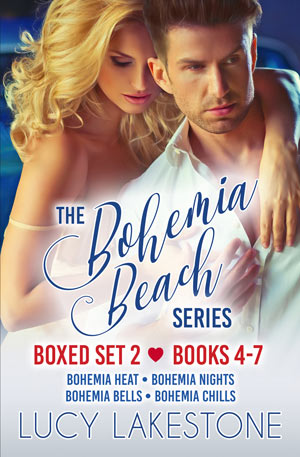 If you're not familiar with the series, let me set the scene. In a beautiful small city on Florida's east coast, artists meet, create, laugh and love. Where restless hearts are fueled by secrets and imagination, romance is impossible to resist. Welcome to the seductive tropical escape that's home to drama, humor and lots of heat – Bohemia Beach. These steamy contemporary romances are the perfect escape for anyone who loves a hot love story.
In the first boxed set of three novels — Bohemia Beach, Bohemia Light and the award-winning Bohemia Blues — you'll find stories of an artist's obsession with a mysterious patron, a photographer seduced by a big-wave surfer, and a musician who discovers unexpected fire in an old friend.
In the second four-novel boxed set — Bohemia Heat, Bohemia Nights, Bohemia Bells and Bohemia Chills — you'll find a scorching celebrity romance, a hilarious hot Scot, a chaotic Christmas wedding, and a funny Halloween roommates-to-lovers tale.
You can read in detail about any of the books on this site, or go to the boxed set page for the roundup.
And welcome to Bohemia Beach!
The Bohemia Beach Series Boxed Set Books 1-3:







The Bohemia Beach Series Boxed Set Books 4-7: