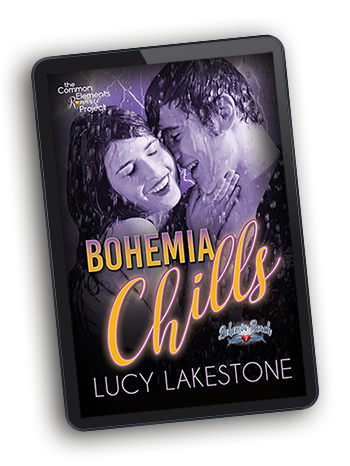 Bohemia Chills is the last, or should I say latest, novel in my Bohemia Beach Series of steamy romances, and it just might be the most fun. I certainly had a lot of fun writing it. It's got all kinds of things I love – a Halloween haunted house, a roommates-to-lovers relationship, secrets, libraries, laughs, sizzle, a touch of suspense and mystery, and it's a renovation romance, too.
Now Bohemia Chills is on sale for a limited time for just 99 cents. Read on for details and to see the book trailer. Bonus: Bohemia Beach, Book 1, is still free at all vendors! Learn more about the series here.
Happy fall!
About Bohemia Chills
My haunted house is a fixer-upper. So is my heart.
I never asked to inherit a historic mansion on the lagoon from the dad I never knew. It's more likely to fall down than survive another century. And after a career-crushing romantic disaster on a failed TV project, I'm too broke to refurbish Bohemia's most famous haunted house.
Enter my annoying roommate, Landon, who for some weird reason is more than happy to help me resurrect the landmark. What better fundraiser to get the ball rolling than a Halloween haunted house? The place might be a death trap, but its mysteries are alluring, and to my dismay, so is Landon.
I've had it with guys, even if this one is hotter than a lava lamp. Still, he knows his way around a hammer, and the house needs saving. Maybe I do, too, but he doesn't need to know that.
My dream job's just out of reach, thanks to a newly found wicked half-sibling. While I figure out my future, I'm looking for the keys to Milkweed Mansion's secrets. But I've thrown away the key to my trampled heart. No matter how irresistible Landon is, I can't let him find it.
Bohemia Chills is a roommates-to-lovers hot romantic comedy with elusive ghosts, spine-chilling secrets and a bunch of madly creative artists set loose in a Halloween haunted house. It's the seventh book in the Bohemia Beach Series, each a steamy standalone romance set among a circle of artists in the enchanting Florida city they call home. It's also a Common Elements Romance Project novel.