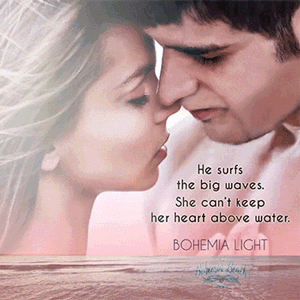 It's hard to resist a cheap date with a hot surfer. Meet Wyatt, who crashes into Cali's life like a wave. Cali and Wyatt star in Book 2 of the Bohemia Beach Series, the sultry Bohemia Light, which is on sale for 99 cents for a very limited time. And since Book 1 (Bohemia Beach) is still free, it's a great time to grab these deliciously steamy escapes.
Bohemia Light stars photographer Cali, who's rebooting her career and doesn't need the distraction of a sexy pro surfer. Especially after a risky tryst that hurls her out of her comfort zone. Wyatt is a wanderer … at least until he meets Cali and sets her world afire. Like all the books in the series, this sizzling romance is an intoxicating cocktail of drama, humor and lots of heat.
GET THE WHOLE SERIES ON AMAZON | NOOK | KOBO | APPLE | ANDROID/GOOGLE PLAY
Here's the book trailer. Surf's up!