A Florida film festival with real Hollywood stars … a mysterious treasure … a garnish-eating dog … it's all in Vexed by Vodka, Bohemia Bartenders Mysteries Book 3, which is live today!
And Risky Whiskey is 99 cents for a VERY limited time, in case you want to start at the beginning. You don't have to, but there are threads that run through all the books.
I dedicated this book to my friends at the Melbourne Independent Filmmakers Festival. That's in Melbourne, Florida, by the way, not Australia. It's a small festival with a huge heart, and all its proceeds go to charity. I've even had a few films in it myself, under my alternate identity. I love how it celebrates the indie artist spirit. Every creator gets a chance to walk the red carpet.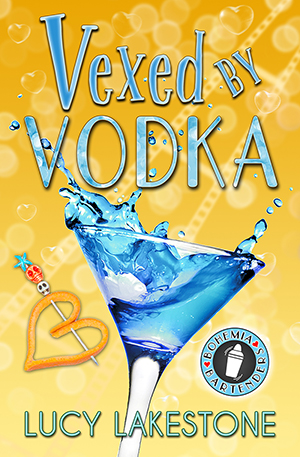 EARLY REVIEWS
"This is the third book in the series and the best one yet. … I was laughing at their crazy antics throughout the book."
– Socrates' Book Reviews
"The mystery behind the disappearances of Reggie and friends and the sunken treasure kept me guessing until the end. … Quirky, naughty, nerdy, intoxicating and unique, Vexed by Vodka is a smashing cocktail."
– The Book Decoder
ABOUT THE BOOK
Movies, murder and too much vodka …
Pepper Revelle is thrilled the Bohemia Bartenders' latest gig is in her backyard: a cocktail-themed film festival that draws all the usual suspects to Bohemia Beach. But good suspects are in short supply when a body wearing an antique gold coin necklace washes up on the Florida sand.
Pepper's colleague and elusive crush Neil fears the worst for his grandfather, a treasure hunter who's been missing for months. Meanwhile, Pepper's big-bearded ex-boyfriend, an obnoxious celebrity mixologist with a television crew in tow, is convinced someone's trying to kill him, too. To Pepper's dismay, he begs her for protection.
Stir in a couple of flickering Hollywood stars, a pushy TV producer, dashing distillers, a frantic festival chairman, a garnish-eating dog, vats of vodka and a double dose of danger, and Pepper's patience is poised to pop like popcorn. Can the mixologists shake up a solution to multiple mysteries before they're skewered like the olive in a martini?
Vexed by Vodka is the third book in the Bohemia Bartenders Mysteries, funny whodunits with a dash of romance set in a convivial collective of cocktail lovers, eccentrics and mixologists. These quasi-cozy culinary comedies contain a hint of heat, a splash of cursing and shots of laughter, served over hand-carved ice.