This is so cool. Author Carmen Cook will read an excerpt from Vexed by Vodka during her weekly live Readings from the Revenge Garden on Instagram. These are entertaining, short reads from her beautiful (and now very autumnal) backyard. Tune in Sunday, Nov. 8, at 1 p.m. ET/10 a.m. PT (or go back to her feed to catch it later).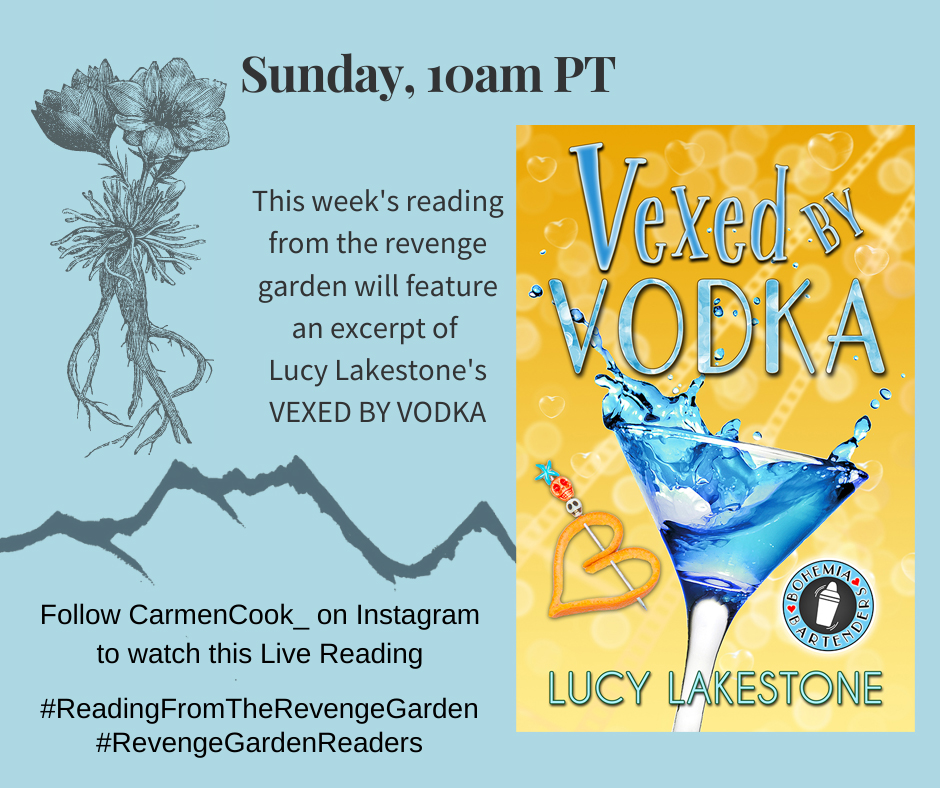 Vexed by Vodka releases on Nov. 10. This funny mystery is the third installment in the Bohemia Bartenders Mysteries.
A little more about the book:
Movies, murder and too much vodka …
Pepper Revelle is thrilled the Bohemia Bartenders' latest gig is in her backyard: a cocktail-themed film festival that draws all the usual suspects to Bohemia Beach. But good suspects are in short supply when a body wearing an antique gold coin necklace washes up on the Florida sand.
Pepper's colleague and elusive crush Neil fears the worst for his grandfather, a treasure hunter who's been missing for months. Meanwhile, Pepper's big-bearded ex-boyfriend, an obnoxious celebrity mixologist with a television crew in tow, is convinced someone's trying to kill him, too. To Pepper's dismay, he begs her for protection.
Stir in a couple of flickering Hollywood stars, a pushy TV producer, dashing distillers, a frantic festival chairman, a garnish-eating dog, vats of vodka and a double dose of danger, and Pepper's patience is poised to pop like popcorn. Can the mixologists shake up a solution to multiple mysteries before they're skewered like the olive in a martini?
Vexed by Vodka is the third book in the Bohemia Bartenders Mysteries, funny whodunits with a dash of romance set in a convivial collective of cocktail lovers, eccentrics and mixologists. These quasi-cozy culinary comedies contain a hint of heat, a splash of cursing and shots of laughter, served over hand-carved ice.
Bohemia Bartenders Mysteries make Best of 2020 list!
By the way, I was thrilled recently that The Book Decoder named Risky Whiskey and Wrecked by Rum among 2020's best cozy mysteries in the Best Books of 2020 list! Check out the list here.
And learn more about the series here. Cheers!