My hot Halloween romantic comedy Bohemia Chills is live today! It's for sale on Amazon and is also in Kindle Unlimited. (And Bohemia Beach, the first book in the series – each of which can be read as a standalone – is free for everyone till Friday.)
I thought I was done with the Bohemia Beach Series until I was tempted to write one more book as part of the Common Elements Romance Project. Mine is a short, funny, contemporary romance novel, but authors in the group are writing in a variety of romance subgenres. Each Common Elements book must include five specific things: a house that may or may not be haunted, a stack of thick books, a character named Max, lost keys, and a lightning storm. In my wacky imagination, these screamed Halloween romantic comedy.
Here's a little more about the book:
My haunted house is a fixer-upper. So is my heart.
I never asked to inherit a historic mansion on the lagoon from the dad I never knew. It's more likely to fall down than survive another century. And after a career-crushing romantic disaster on a failed TV project, I'm too broke to refurbish Bohemia's most famous haunted house.
Enter my annoying roommate, Landon, who for some weird reason is more than happy to help me resurrect the landmark. What better fundraiser to get the ball rolling than a Halloween haunted house? The place might be a death trap, but its mysteries are alluring, and to my dismay, so is Landon.
I've had it with guys, even if this one is hotter than a lava lamp. Still, he knows his way around a hammer, and the house needs saving. Maybe I do, too, but he doesn't need to know that.
My dream job's just out of reach, thanks to a newly found wicked half-sibling. While I figure out my future, I'm looking for the keys to Milkweed Mansion's secrets. But I've thrown away the key to my trampled heart. No matter how irresistible Landon is, I can't let him find it.
Bohemia Chills is a roommates-to-lovers hot romantic comedy with elusive ghosts, spine-chilling secrets and a bunch of madly creative artists set loose in a Halloween haunted house. It's the seventh book in the Bohemia Beach Series, each a steamy standalone romance set among a circle of artists in the enchanting Florida city they call home. It's also a Common Elements Romance Project novel.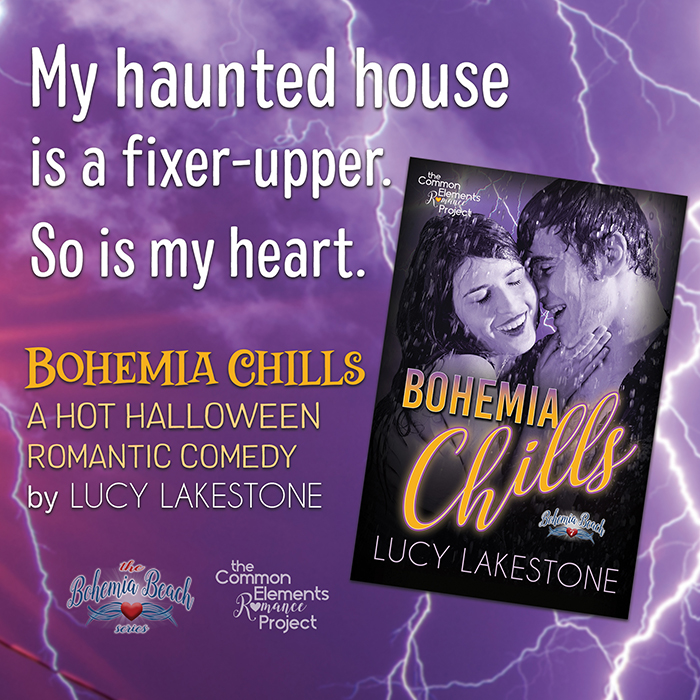 In the meantime… check out this chocolate and book boyfriends giveaway!
I'm also a sponsor of a new giveaway. Who wants romance and chocolate for Halloween? We've got the prizes that will make your Halloween rock: Bestselling books from Top 40 Amazon romance authors … and chocolate from Godiva, Lindt, Fames, Dove, Barnett's, Ferrero Rocher & more!
No matter your favorite romance subgenre…whether you like your book boyfriend sweet, sexy, or steamy … there's a prize pack for you. Enter now for your chance to win!
And one more giveaway (or two)…
I'm giving away two skull jars of goodies, including an Amazon gift card, on my Facebook page (check it out!) and in my newsletter (open it and enter!).