Hurricane Matthew recently scraped up the east coast of Florida and threatened my precious Bohemia Beach. Sure, my Bohemia is fictional, but it's inspired by the place where I live, and I was tremendously relieved when the eye stayed just offshore. My heart goes out to the people who suffered more severe damage and flooding. Even though our house was OK, there was a ton of yard and tree damage, and we were the lucky ones.
Despite our narrow escape, I lost lots of time to hurricane prep, evacuation and cleanup, and that means I pushed the publication of Bohemia Heat back a couple of weeks. The good news is that the Kindle version is already on Amazon for pre-order. One of my great writer friends has read it and says it's the best in the series so far. I am totally in love with Jace and Penelope's crazy, sexy story. I hope you will be, too.
Meanwhile, keep up with giveaways and other stuff in my newsletter and on my Facebook page. The entire Bohemia Beach Series has been up for a series of Goodreads giveaways.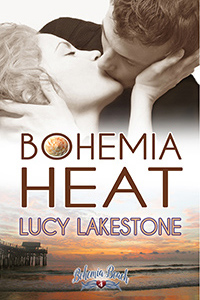 Here's a summary of Bohemia Heat:
As summer sizzles in Bohemia Beach, Penelope Locke faces a different kind of heat. She's under pressure to create spectacular costumes for an update of Shakespeare penned by hot actor Jace Edison, who's come to town to oversee the production. He's a rising star on Broadway, TV and film with a reputation for ignoring women, and just being in the same room with him fries Penelope's wiring. Jace is a tangle of contradictions behind his handsome mask, and he threatens Penelope's carefully contained emotions by treating her alternately with disdain and passion. She can't help but be tempted by his volcanic attractions, but she's been burned before. Can they get close to each other without going up in flames?
This is the fourth novel in the Bohemia Beach Series, each a steamy standalone romance set among a circle of young artists in the enchanting Florida city they call home.