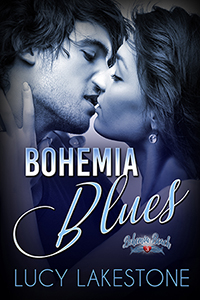 A book release is imminent, and big changes are afoot here in Bohemia Beach (or its parallel universe, where I live). First, Bohemia Blues is coming Feb. 18! I'm so happy with this story, even though it's a shade darker (and possibly funnier) than Bohemia Beach and Bohemia Light. Ez, the piano-playing singer you saw briefly in the first two books, is at the heart of this novel. Here's the summary:
Esmerelda Falcon is Ez to her friends — and to her fans. The talented singer-songwriter for an up-and-coming band in Bohemia Beach, she keeps her love life simple by dallying with guys she's only too happy to toss aside. When her latest boy toy goes ballistic in a very public breakup, she turns to steadfast groupie Gary Gorski for escape. Expecting little from the gawky artist who adored her in high school, she's shocked by their scorching chemistry. But their would-be connection is frustrated by his sense of honor, her agonizing past, drama with the band and, it seems, all the forces of nature. Can Ez find a way to shed her armor and embrace love as fearlessly as she makes music?
Oh, yeah. Gary's back. If you liked meeting him in Bohemia Beach, you're going to love really getting to know him in Bohemia Blues. Good guy, meet bad reputation!
As always, this is a standalone novel – you don't have to read the other books first – though you'll see familiar characters from all three. (And yes, there will be more books!)
What's different? The book covers. I loved the seashell covers on the first editions of the first two books, but other authors gave me some advice I decided to take to heart. No matter how pretty the covers were, they weren't necessarily telling readers what I want them to know: that inside each novel is a sensual romance in a beach setting that I hope will carry you away. Like that soap in the commercial, but a lot more tingly.
And … drumroll, please … there's a fresh new book trailer for Bohemia Blues! Check it out below. Many thanks to Open Mike's in Melbourne, Florida, and R.J. Bowen for providing locations and talent for Sky Diary Productions' filming. In the meantime, won't you consider liking my Facebook page? A fabulous giveaway is in the works, and you don't want to miss it.